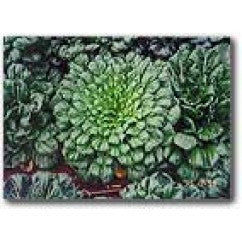 Sunline Ag
Mustard Spinach Tatsoi - Green Coin
Certified Organic Culinary Herb / Vegetable Seeds
Mustard Spinach Tatsoi - Green Coin - Brassica rapa
Mustard spinach is widely cultivated in the Orient for its edible leaves or in Europe for their seeds for making mustards. There are many named varieties. It takes 55 - 80 days for plants to reach maturity from sowing. This is a very hardy plant, although knocked back, it has withstood temperatures down to about -14°c and can be cropped for most of the year. It is much less likely to bolt from a spring sowing and is fairly resistant to summer heat.
---
Share this Product
---
More from this collection