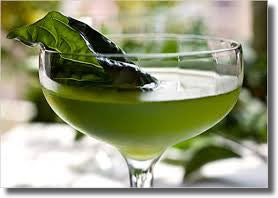 Sweet basil seed drink Sweet basil seed drink is found in Thai or other Asian food stores in cans or can be easily made at home. It is a simple recipe of water, sugar and honey. Combine half cup of sugar or less if you don't like your drink as sweet, add three cups of water and a bit of honey. Stir this combination of ingredients and six teaspoons of sweet basil seed. The basil seeds will expand with a gelatinous texture and look clear with a dark dot-like center. It has been known in helping people to loose weight...
---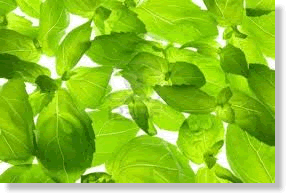 The basil plant, scientific name Ocimum basilicim, contains health benefiting essential oils such as Eugenol, which is believed to be an anti-inflammatory remedy. Other anti-bacterial and anti-inflammatory benefits found to be in basil are Citronellol, Linalool, Citral, Limonene, and Terpineol.   Various basil types will have different benefits, but the nutritional information below offers a good general average of Daily Value health benefits contained 100 grams of the plant.   Calcium: 18% Copper:  43% Iron: 40% Magnesium: 16% Manganese: 57% Potassium 19% Zinc: 7% Protein 3 grams Vitamin A 100% Vitamin B6 6% Vitamin C 30% Vitamin E 0.80 mg...
---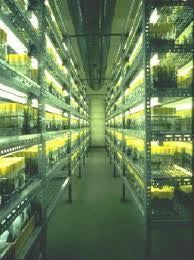 If you're planning on having fresh basil year after year, save the seeds from the plant itself before the end of the season. To do this you will need to allow the plant to flower. This should be done at the end of your season as flowering basil will stop producing leaves. The entire plant can be used. Other than the leaves, the flower is also edible and tasty, however, milder than the leaf itself. Seeds are utilized for replanting and selling. Basil does not grow in cold and dark climates and is an annual plant. In tropical areas such...
---
Basil is not going to keep fresh for long, generally a few days after being harvested and it is an annual plant that will not grow in freezing temperatures outdoors. There options to have your own fresh basil in your home with a terrarium. But most do not have one and want basil throughout the year. Although preserved basil is not the same as the having them fresh, here are some helpful steps that can be taken for later use of herb.   Blanching Basil Blanching is easy, not very time consuming and worth the effort. This process alone does...
---
For a successful harvest, you need to begin with the right time to plant the seeds. Planting your seeds in late spring to early summer will avoid seasonal frost which is damaging to the basil plant. Typically, exposure to temperatures of 50 °Fahrenheit or 10 ° Celsius or below is too cold and harmful. Ideal conditions for its growth are 70 ° Fahrenheit or 21 ° Celsius under six hours or more of direct sunlight. The planting can begin indoors about a month prior to the last cold frost of the season. When there are approximately three set of leaves,...